When talking to potential puppy owners regarding their search for a new addition to their home, we always encourage them to ask breeders if their breeding stock has had their hips tested. Canine hip dysplasia (CHD) is the most common inherited joint problem in large breed dogs. A responsible breeder will have had their breeding stock tested, and should be willing to produce test results for their dogs hips if they are not already visible to the public. There are two hip tests available to breeders, OFA (Orthopaedic Foundation for Animals) and PennHIP. These two models represent rival technologies for assessing dogs hips and will always be debated regarding which test is preferred. As a breeder, we have done both OFA and PennHIP tests on our dogs. We feel the PennHIP method is superior, here's why.
Diagnosis of canine hip dysplasia is based on breed, history, physical exam findings and an x-ray of the dog's pelvis. The standard "hip extended" view is taken with the dog on their back, legs fully extended, and their knees inwardly rotated. The x-ray is then evaluated for the general appearance of the hip joints as well as for signs of degenerative joint disease. From there, veterinarians grade the hips as having excellent, good, fair, borderline, mild, moderate, and severe conformation and try to predict which dogs are less likely to develop. Unfortunately there is still a 20-25 percent chance of producing a puppy with hip dysplasia even when using the OFA method.
Dr. Gail Smith, an orthopaedic surgeon began his research of early diagnosis of canine hip dysplasia back in 1983. Through his research he created the PennHIP method for measuring joint laxity, the primary cause of degenerative joint disease. The distraction index (DI) used in the PennHIP method serves as a measurement of passive hip laxity, the degree of looseness of the hip joint when the dog's hips are completely relaxed. Dogs with a DI of 0.3 have tighter hips and are less likely to develop degenerative joint disease, while those with looser hips whose DI values approach 0.7 or more are at greater risk. They advise to breed only those dogs in the top 50 percent. It is presumed that those with tighter hips when bred to each other, the average distraction index (DI) will decrease, leading to tighter, healthier hips and incidence of hip dysplasia.
OFA X-rays are graded based on subjective impressions of the dogs' individual hip conformation by a small panel of radiologists, while PennHIP patients' x-rays are assessed by objective measurements.
The OFA's method allows veterinarians to select the best images or decline to submit poor quality hips for evaluation, therefore altering their database towards better hips, and in turn presents this database as somewhat useless. However, PennHIP requires any veterinarian who undertakes this method to have his or her x-rays included in a database of cases, regardless of hip quality. This improves the value of the database as well as its value to dogs for its more accurate representation of the real frequency of hip disease. As more dogs are entered into the database, result accuracy for individual dogs are regularly refined.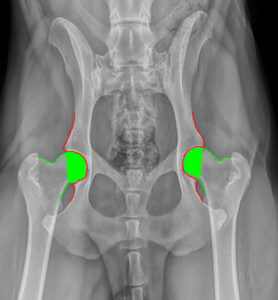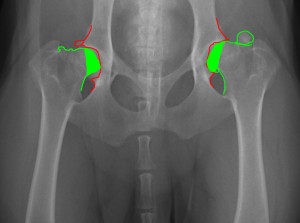 OFA does not declare to accurately predict future disease. It also cannot be initiated until an animal is two years old and well into its breeding years. This allows many dogs to enter competitions before its hips are evaluated broadening the chance that poor hips will enter the genetic pool through award-based incentives. PennHIP can be performed as early as 16 weeks for an accurate prediction of future changes to the hips. This alone makes PennHIP valuable; its ability to eliminate hip dysplasia entirely from the gene pool if everyone was to use this method on their adolescent dogs.
In order for OFA to be performed, all you need is a veterinarian with an x-ray machine. PennHIP vets must be certified after completing a course making them a rare find in the veterinary industry. OFA charges a small fee for evaluation and certification on one X-ray. Many veterinarians do not sedate for this X-ray. PennHIP requires the owner to commit to the whole service: anesthesia, three x-rays and the evaluation fee, making PennHIP a more expensive option.
http://www.ofa.org/hd_info.html
http://info.antechimagingservices.com/pennhip/
Images copyright of Points East West Veterinary Services and Society Hill Animal Hospital