Our goal as a kennel is to breed healthy, stable Small Munsterlanders who are also well balanced, loving companions in the home. A dog's temperament is as significant to us as their hunting ability so we strive to produce truly versatile hunting dogs that can not only hunt but also be a lifelong member of a family. We do our best to match puppies with prospective owner's based on their experience with hunting and training as well as their personal lifestyle. We make sure our females are certified to breed by meeting the SMCNA breed standards. Their hips are rated "good" or "excellent" according to the OFA, or receive a reading of distraction index of less than 0.50 in PennHip.
Four Point Kennels chooses to test our promising breeding stock in the NAVHDA Natural Ability test, but also the UPT or UT test at a young age. We encourage all Small Munsterlander owners to have their dogs NAVHDA tested and become members of the SMCNA (Small Munsterlander Club of North America). NAVHDA (The North American Hunting Dog Association) is the foundation registry and testing organization used for the SMCNA. By NAVHDA using a "standard" for testing purposes, Four Point Kennels can compare our Small Munsterlanders with other versatile breeds.
Each litter is planned with the help of our friend and mentor Pam Robinson of Robingun Kennels for the improvement of our breed and breeding program. At 8 weeks of age our puppies we raise are evaluated for their conformation and temperament through Wendy Volhard's Puppy Aptitude Test. We offer a 6-year health guarantee on all our puppies, along with our advice and assistance in training the puppy. All of our puppies we sell will have their first shots, be wormed, micro-chipped and dewclaws removed. All of our puppies are registered with both NAVHDA and the SMCNA.
We want our puppies to go to the best homes possible and we want you to be happy with your new hunting and home companion. For that reason we ask prospective buyers to fill out a questionnaire before we agree to sell them a puppy.
We only sell our dogs to hunting homes.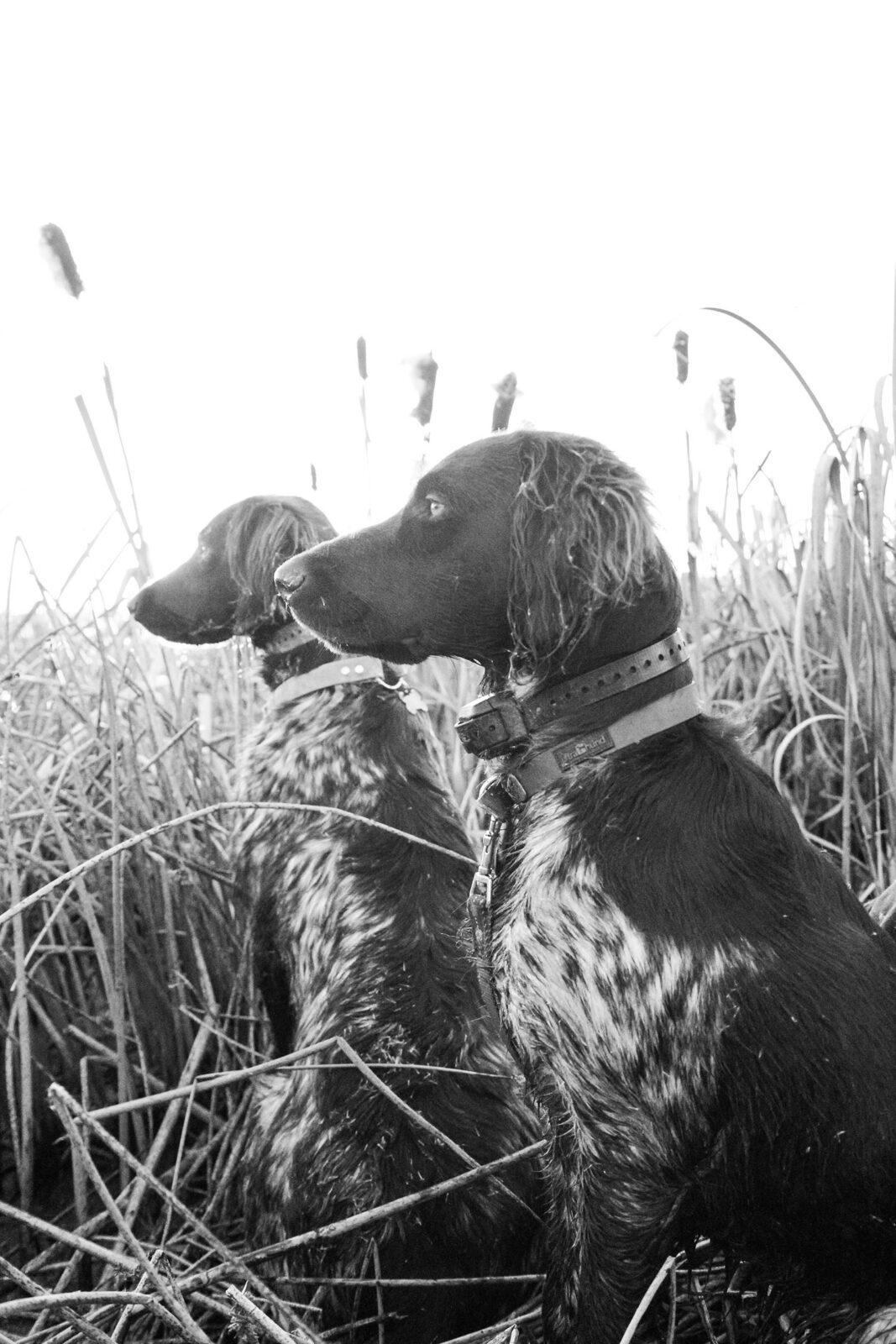 Four Point Kennels is not just a breeder - they are knowledgeable, hands-on, and experienced dog owners. When we were looking for a bird dog to add to our family, we wanted to find a breeder who was approachable and reliable. Four Point's ethical and professional attitude towards breeding Small Munsterlanders is only one reason why we chose to bring one of their pups into our lives. Tanner have educated himself to ensure only the best blood lines of Small Munsterlanders are bred, they have met the requirements set by the SMCNA for breeding, and they stand by the health of their dogs. If you are looking to add a hunting dog to your family, we highly recommend Four Point Kennels – you won't regret your experience.
Tanner took the time to have me out to his property, show me the dogs, and put them to work on some birds. The way he answered my questions I could tell they take their breeding seriously and are working very hard to create a great bird dog with a good temperament and great conformation. After watching the dogs work, I was sold. This is a great versatile hunting dog!